Check out my collection of custom giraffe notebooks. High Quality Zazzle products designed by me!
Personalized Giraffe Notebooks in M&I Zazzle Store
Hello dear readers!
Today I am presenting you new collection of custom notebooks straight from my
M&I Zazzle store
. Today we have
giraffes
on menu. :) And that is not any giraffes, but few very cool and cute. As always I have done these designs for notebooks in Photoshop.
This time I will explain you how to create your own giraffes and/or other animal brushes in this program, so you could design your products in the same way.
Giraffes
are one of my favorite animals. Everywhere, they have been presented as cute and funny creatures. I am sure everyone adores them. How not to? These prints you can see on my products have been created by me either by drawing them on paper, or by doing them in designer programs, such as Photoshop, or Harmony.
How to create your own giraffe brush in Photoshop?
How to: Giraffe Brushes in Photoshop!
Anyone can create his own
giraffe brush
using this useful, easy-to-handle, professional tool. Can you draw? I can't, but my girlfriend can. I can do some digital art myself, and that is what I do. Paper drawing is done by my GF.
Simply, just

draw something

by yourself, or ask someone to do it for you.

Take the photo of your artwork, or scan the image.

Open the

.jpg/.png file in Photoshop

and duplicate background layer.

Make background layer invisible (you don't need two of them the same).

Go to Image and in adjustments choose Black & White option (

all brushes must be done in B&W

).
Go to Layer and in options choose

Blending options

. Adjust it to erase all the background. Be careful not to brake down the lines somewhere.

You can play with options to make lines darker, or erase unwanted parts by eraser, or add new things...

After you are done choose: EDIT>

define brush preset

.
You are done and ready to create
Cool Personalized Giraffe Custom Notebooks
by yourself. :)
One of my designs: Giraffe Notebooks on Zazzle
Have you checked my other custom notebooks I have been designing on Zazzle?
Recommending other Personalized Custom Notebooks:
For the past few months I have been designing lots of notebooks on Zazzle. This is latest collection of those designed using giraffe motives . I am fun of giraffes. But I also love all sorts of other animals (such as turtles), and I do abstract designs too.
Please check these out if you have some time:
Awesome custom Turtle Notebooks
Abstract Personalized Notebooks
Amazing and Funny
I hope you will enjoy them, and maybe decide to buy one or more. I would love to hear a comment from you about my designs. Your opinion means a lot to me!
Giraffe Notebooks (product specifications):
Size: 6.5" x 8.75",

Cover printed in vibrant, sharp color,

80 black & white lined pages,

Lay flat spiral binding,

Price: 12.95 USD.

Delivery tomorrow!
Gallery with Personalized Giraffe Custom Notebooks: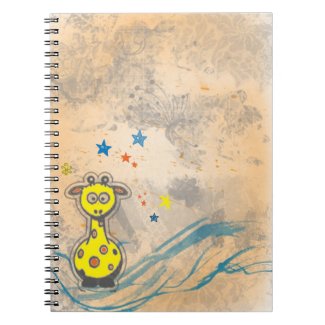 Buy "Funny Giraffe" Notebook
Visit
M&I Zazzle Store