Presenting you awesome custom turtle notebooks straight from M&I Zazzle store!
Turtles on the menu today. ;)
These days I was experimenting with new brushes in photoshop. I decided I could create interesting new brush or brushes, to add more personal touch to my Zazzle products. My experimenting ended up with creating few
turtle and leaves brushes
. I thought, this would be perfect for my new
awesome custom turtle collection of notebooks
.
With photoshop it has never been this easy to create art. Do some digital or paper drawing by yourself, import it into photoshop and make a brush of it. Then, you can use it when ever you want. It is yours, it came out of your mind, and now it is making money for you. Isn't that great? That is what I have done with these
custom turtle notebooks
.
How to create custom brushes and create original art for your Zazzle notebooks?
What I do is paper drawing, because it is so much easier than using pen in photoshop. You can do it that way, or you can use other program to
create your own doodle
. This time I was drawing turtles. I used other models of turtles online to help myself create authentic one. :)
When you draw anything you want on the paper, take camera and create a digital photograph of your piece of art.
Then upload it to your computer, and open the image in photoshop. Be sure to transfer the image into grey scale, so your lines should be black and background white. When you create brush, black parts will be visible, and white parts of image will be transparent areas.
Follow: EDIT> create brush preset> name your brush> click OK.
Great, now you have your own brush. Why don't you create some awesome custom notebook on Zazzle? Maybe you like turtles too, so you could create turtle notebook of your own. :D
I hope you will like my selection of notebooks I made, and maybe even buy one. Have a look at them on the bottom of the page, and don't forget to check other collections too:
Custom Turtle Notebooks (product details):
Size: 6.5" x 8.75"
Cover printed in vibrant, sharp color
80 black & white lined pages
Lay flat spiral binding
I hope you will leave comment, and express your opinion about these custom notebooks from my M&I Zazzle store!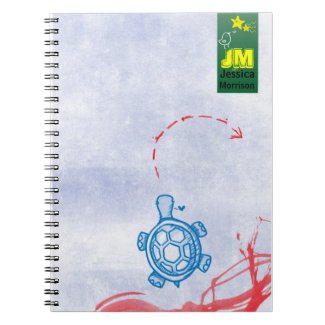 Buy "Turtle" Notebook
Visit
M&I Zazzle Store